Description
Tawashi washcloth is a reusable and recyclable ecological cloth. Firstly, our mop is made with 100% cotton. Second, it replaces the usual synthetic sponges in order to preserve nature. This environmentally friendly washcloth is ultra-soft and resistant at the same time. Then, it is washable in the washing machine up to 60 ° C. Its charm: the little pearls that surround this dishcloth. Finally, you can recycle it in the compost by removing the small beads beforehand. Adopt this everyday object for your health and that of our planet. To go further, we also advise you to use washable and reusable make-up removing wipes.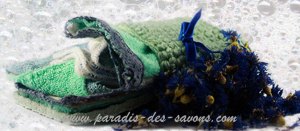 Tawashi washcloth: Japanese concept
To begin with, the tawashi dishcloth was born in the land of the sun: Japan. Its incredible story begins at the beginning of the twentieth century. The inventor is a certain Mr. Seizaemon Nishio who to make them uses palm fiber, called Kamenoko Tawashi. This is why today they are called tawashi. His first cloths are baptized た わ し, which means "brush to wash". This is how the whole world picked up on this concept. To conclude, the term "tawashi" today means all the eco-friendly cloths, brushes and sponges used to clean. This also applies to the ecological soft cloth.
Eco-friendly cloth for zero waste
Our cloth is not only ecological but also very nice and handcrafted. Neither too thick nor too thin, the tawashi ecological cloth fits your hand perfectly. Its use is very comfortable, especially since you can put it down or hang it up after use. It can be reused hundreds of times and machine washed. This avoids ecological disaster with synthetic rags bought in supermarkets. Not to mention that its life is much longer. Indeed, a tawashi washcloth will cost you less in the long run.