Description
Jasmine candle. Scented candle with floral and refined scents. First, it causes feelings of pleasure and happiness. Also, it is attributed aphrodisiac qualities. Then it is often used for meditation because its scent has soothing effects. It has an intense fragrance and delivers its floral scents even without light up on. The floral scent of jasmine is in the spotlight in this creation by Paradis Des Savons. Our Jasmine candle is ideal for scenting your home and soothing spirits.
Jasmin candle – an arsenal of seduction
This Jasmine candle is a fruit of the imagination of our craftsmen and unique in its kind. The scent of jasmine is omnipresent from the opening of the candle. A real atmospheric product, it brings a touch of design to your interior. It is made in a pretty glass jar for more safety so as to avoid spills. Also, it is with a bamboo cover for added protection. Our high-quality candle will give you an optimal olfactory rendering throughout the duration of its combustion for 30 hours. 100% natural candle, it is guaranteed without chemical substances.
Another candle with the legendary scent of rose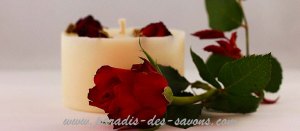 Floral scented candle
Jasmine is a flagship flower in the olfactory universe, therefore we decided to create this candle. Indeed, this characteristic white flower has always symbolized pleasure and sensuality. The floral scent of jasmine is surely one of the most used aromas in perfumery. The fragility of the jasmine flower contrasts with the astonishing strength of its fragrance. In other words, this smell declines with virtuosity all the olfactory octaves. This scent pushes the creators of perfumes to use it mainly in its flowery facets. And that's why this perfume is one of our scented candles.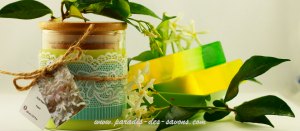 To create the scented candles
Why to make the scented candles, you ask me? The idea comes from creating candles that are not only pretty but also pleasant in order to enjoy their scent. Not only beautiful and fragrant, but also made with natural materials. This is the case with our jasmine candle with floral scents.
The essentials of a red rose, May rose and rose scented bath salt
References: