Description
An Easter decoration idea for your home. Our candles are decorative and practical pieces, made by hand and reworked to make them "alive". The wool Easter candle is intended for the art of the table and the decoration.
Our Easter decoration idea
Are you looking for the house decoration for Easter? Do you want to add a touch of originality to your table decoration? Borrow our Easter decoration idea. To begin, our candles are made in Normandy with high quality waxes for your home and your decoration. Not only they bring a good dose of cheerfulness to your daily life but also of well-being. We always have a good opportunity to decorate our house: Easter is one of them. As mentioned above the Wool Mouton candle is a good idea for your decor. In case you are looking for other ideas, you have a wide choice here: NATURAL AND SCENTED CANDLES. They are a reflection of the embellishment of your table. It is possible to combine shapes and scents to create an atmosphere according to the theme of your party. Indeed, candles dress your tables, the living room and all other rooms. They guarantee warmth and magic at your party.
How to reuse this wool candle holder
Reuse this wool candle holder is very simple. First, burn the candle during your Easter holidays. When completely consumed, get rid of the rest of the wax. Then wash the glass part of this candle holder with hot water and washing-up liquid. At the end put a simple candle of ordinaire shop in the candlestick. Here is an example: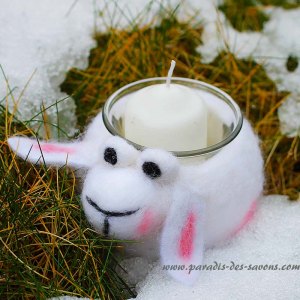 The maintenance of the candlestick:
The surface of the candleholder is 100% sheep wool so do not wash! If however there is a need for cleaning, prefer to remove the stain with a damp cloth.
The size of the candlestick:
Width 9 cm
Height 7 cm
Life of the candle 17 hours