Description
Green tea soap by Paradis Des Savons. The soap with lot of benefits of green tea for the skin. First of all, this natural soap is rich with very powerful anti-aging active ingredients. Using regular green tea soap helps reduce wrinkles. Then, in addition to moisturizing the skin, this soap helps tighten oily skin. This is why it is advisable to use it regularly if you have rather oily skin. In this regard we invite you to read the full description of all the benefits of green tea for the skin.
Green tea soap
For start, this green tea soap helps reduce wrinkles on your skin. Then, the essential oil of green tea brings a touch of a perfume. The scent is delicate and not heady. Finally, the soap foam envelops your body. Discover an original natural soap like no other. This green tea soap is excellent for frequent washing. It provides optimal moisturizing to your epidermis. Also, it nourishes your skin. You can help your skin defend itself by providing it with a good dose of hydration and nutrition by using this exceptional soap.
The scent of green tea is not for you? You will no doubt find a natural handmade soap to your taste HERE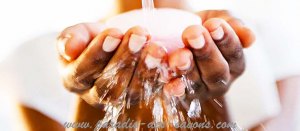 The virtues of green tea and the joy of purifying yourself
The benefits of green tea are countless. First, green tea essential oil is disinfectant. It helps to protect your skin from damage from the sun's rays. So, this soap is highly recommended after sunbathing. This oil is responsible for anti-free radicals. It is antioxidant and regenerative for skin. It brings you a precious help in the fight against wrinkles. Green tea is an anti-aging in general.
Lemongrass soap to purify the body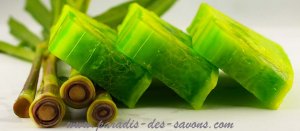 The properties of essential oil of green tea
First of all, we must emphasize the remarkable antioxidant properties of green tea. It is thanks to its capital in antioxidants and astringent agents, that green tea helps you in the fight against wrinkles. This essential oil is a formidable ingredient in green tea soap to purify the skin. In the same way, with this natural soap, you can cleanse the scalp and preserve skin youth. In addition, it provides relaxing and stimulating effects on the immune system, due to theanine, an amino acid. Therefore, by freeing the skin of its toxins, green tea improves the radiance of the complexion of all skin types.
This green tea soap: for what type of skin?
This handcrafted green tea soap should please you. For all skin types, especially for oily skin. Each soap is individually wrapped.
References:
Green Tea Soap Benefits For Skin
Skin Health: 7 Recipes with green tea Backed By Scientific Research to Improve Skin