Description
Natural handmade grapefruit shaving soap with vegetable oils. Essential shaving soap to keep healthy male skin. With pink and red colors and a grapefruit scent, this soap is suitable for everyone.
Grapefruit scented shaving soap
Shaving soap to bring summer freshness to your skin. First, it is very fragrant. This grapefruit scent is extra fresh and delicious. Then, like all the soaps made by Paradis Des Savons it is made with vegetable oils. That is to say, it contains a good percentage of vegetable oil. In this case avocado oil. Finally, this shaving soap is easy to use. You can use it with or without a badger. Just wet it and pass over the area of the skin to be shaved.
Shave with shaving soap
First of all, it must be said that shaving with shaving soap has several advantages. First of all, it's natural and ecological. This avoids, more precisely, the use of commercial shaving foams which are not completely natural. In addition, this shaving soap is more economical than commercial foams. It will serve you much longer and contains no plastic packaging.
The beneficial properties of shaving soap
First of all, it should be noted that our shaving soaps contains avocado oil. It is a vegetable oil par excellence very penetrating and beneficial for all skin types. For example, this oil is very rich in vitamins A, B, D, E and K. In addition, it is a source of sterols and carotenoids. Also, Omega 6, Omega 9, Omega 7, Omega 3. Then it contains the oak bark extract with astringent properties. Finally, glycerin for its hydration power. In conclusion, this shaving soap is more than perfect for all skin types.
Find another shaving products made by Paradis Des Savons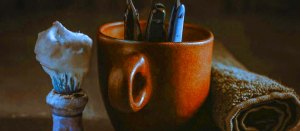 Source: